 The program for the adjustment drives
$0.5 DRIVER FOR CREATIVE NAVIGATION
$2 File utіlіta (robots іz Vilik kіlkіstyu faylіv)
$0.5 SSC Service Ulility - a program to reset chips printer company Epson. All the models.
$20
Absolute StartUp manager
$6 Autofill profiles, shapes
$0.1
CD Remover-save valuable disk stuck in the defunct drive.
$1.99
Hotkey Control-allows you to assign any keyboard shortcuts for various events.
$2.99
Avant Browser-best alternative to Internet Explorer.
$3.99 Photocopier-turns a bunch of computer-scanner-printer in the copier.
$2.99 WinClip-indefinitely extends the standard Clipboard.
$0.5
WinForce-makes it easy to clean up the system performance and speed up your Windows.
$0.5
Absolute StartUp manager
$6 Absolute StartUp manager
$6 The program for automatic remembering logins and passwords to paid area of \u200b\u200bthe site, ftp, email.
$4 Drive Health. It does not just useful, but very useful utility
$0.5 Performance Test. A simple means for measuring the performance of your computer
$0.5 Manager running applications.
$5 Reference collector. Numismatics
$10
Real accelerators Windows XP
$0.5
Management Winamp through com port
$0.07
Program administration. Very easy to use! Categories: "Start button", "visual", etc.
$6
Speed \u200b\u200bgame and PC (Accelerator games and PC)
$15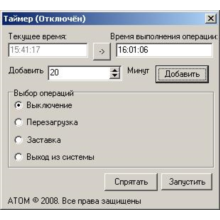 Multifunction Timer.
$0.1 Mp3 crop with minimal loss of sound quality
$0.2 Steganos Internet Privacy v 2.12
$5 ProgramCursor (Middle version)
$2.5