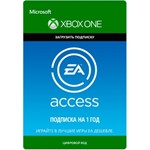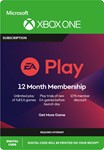 CODE FOR ACTIVATION OF SUBSCRIPTION EA ACCESS is displayed in the BROWSER AND COME TO YOUR E-MAIL AFTER AUTOMATIC PAYMENT !!!

In which countries is available for subscription EA Access?
Currently, EA Access program is available in 41 countries (and territories): Australia, Austria, Argentina, Brazil, Hungary, Germany, Holland, Hong Kong, Greece, Denmark, Israel, India, Ireland, Spain, Italy, Canada, Colombia, Mexico , New Zealand, Norway, United Arab Emirates, Poland, Portugal, Russia, Saudi Arabia, Singapore, Slovakia, the United Kingdom, the United States, Taiwan, Turkey, Finland, France, Czech Republic, Chile, Switzerland, Sweden, South Africa, South Korea and Japan.


What is EA Access?
EA Access - is a subscription only for Xbox One, which allows you to play more games for less money. Play a game of ever-growing collection, which includes more than 10 games in The Vault, play new games from EA before they are released for sale and save 10% on digital purchases EA on Xbox One, including full games, pre-orders, additions, points Ultimate Team ™ points and everything else. Apply certain conditions, limitations and exclusions.

What is a Games Library The Vault?
Game room The Vault - a constantly growing collection of the best games from EA for the Xbox One, you can upload and which can play thanks to the active subscription EA Access. Enjoy unlimited time in games from EA like Battlefield 4 ™, FIFA 15, Plants vs. Zombies ™ Garden Warfare, Madden NFL 15, Need for Speed ™ Rivals and others, and, and more games will be available later.

What is the difference between demo and trial versions of EA Access?
Demos are a part of the game, which will allow to understand the essence of the game. Playing in the same trial version of the game in the EA Access, you play the full version of the game for a limited period of time before the game on sale. And if you buy the game after it is released for sale, you can continue playing from the point where you left off - your progress and statistics remain.

You can subscribe to EA Access without the gold status of Xbox Live Gold?
Yes, all the players on the Xbox One can become subscribers to EA Access subscription and get all the benefits without the gold status of Xbox Live Gold. To connect to a multiplayer mode on the console Xbox One, you still need a gold membership Xbox Live Gold. For more information about the status of gold Xbox Live Gold can be found here: http://www.xbox.com/ru-ru/live/

This key is distributed by digital distribution. And no boxes and disks.